To get into the Halloween spirit, Youth Action Aid (YAA) held a virtual read-aloud for elementary students on October 23rd. Over fifty lively elementary students showed up in their Halloween costumes, eager to listen to the story the members of YAA had prepared. The elementary students were very attentive to the details in the story and listened carefully to the readers, who were members of YAA. The readers dressed up for the occasion and interacted with the students, and the students responded with great enthusiasm and excitement.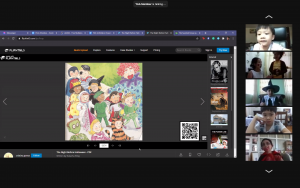 Wine (G11), one of the student leaders of YAA, remarked how she "was nervous about whether we would be able to keep them under control". Jun (G11), also a student leader of YAA, agreed that "it was chaotic at first". However, they were positively surprised by how "the kids all kept quiet throughout the reading session", and were relieved by how they "were very enthusiastic about sharing their ideas on the story and their costumes with everyone at the end". 
After the read aloud, the elementary students played a Halloween-themed game of Skribblio. In addition to quickly typing in their guesses in the game, the elementary students laughed and shouted their ideas in the Zoom call.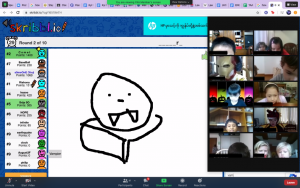 Student leaders, as well as readers, noted that they could feel the elementary students' energy and excitement, and felt even more motivated to make the read aloud and game as fun as possible. One of the readers added that the event was "memorable, because it was like going back to when we were all elementary students." Jun also expressed her joy about how the event, which was held to not only celebrate Halloween but also help the elementary students stay in touch with their friends, saying it felt more like a "party". 
All members of YAA were relieved and delighted when the elementary students responded positively when asked if they had fun, with one student commenting "EASY YES. I LOVED THIS."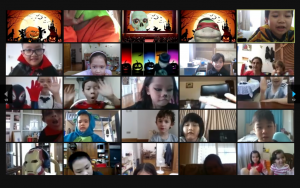 One week later, on Friday October 30th, YAA held a virtual Zoom movie night for the secondary students. Over 45 students joined, and as Jun remarked, "it was a chance for students to relax after having worked hard this quarter and to simply enjoy Halloween movies." This event brought more awareness to YAA and the work they do as well as aim to accomplish this school year. The support from the student body was much appreciated by YAA's members, and just like the elementary students, the Zoom movie night left the secondary students with a memorable experience, getting to watch movies with their friends during times of quarantine.
By Global