Although online school has stopped physical contact, the love of music remains strong in the ISY Community. Initially, it seemed difficult to continue with the music programs within our school as music is something that's very interactive. However, with some innovation and the help of technology, the ISY community has found several ways to continue to keep the spirit of music alive!

Virtual Choir
Choir has been an ongoing program within ISY for many years, and the situation this year has brought it online. Although previous physical choirs were separated into elementary, middle and high school, the special situation this year has allowed us to do a fully combined choir for all students from third to twelfth grade. Currently, the choir is composed of over 30 elementary students, a handful of middle school students, and one high school student.
The choir is led by Ms.Bekka along with the help of Ms.Quigley and Naddy Teo (G11). Currently, the choir has just finished working on the song, "You Will be Found" from the musical "Dear Evan Hanson". Due to the unconventional circumstances we are in, the choir has come up with new ways to learn the songs as a collective. One method used was to listen to given recordings of each of their parts and another was to sing along with the teachers or a student leader during zoom sessions held every Monday at 3:30pm MMT.
Although these strange circumstances have made it nearly impossible to sing together, the high spirits of the kids and the enjoyment they share in creating music make this a really fun experience. We're just taking things slowly and working it out as we go!" said Naddy, who leads the sopranos of this choir.
Up until this point, students have been practicing individually at home, however, each unique voice will be brought together to form the sound of a choir through the magic of editing. Students were asked to record a video of themselves singing their own part, and when all these videos are sent in, the voices will be digitally weaved together into a single piece of music. This final video is currently in the process of being edited and will be released in a few weeks on Global. Stay tuned for the final result!
Music Mentorship

In addition, a band mentoring program has been added to our ever-growing list of service-learning groups on campus! In light of the COVID-19 pandemic, young students who are beginning to get involved in band found themselves unable to or unmotivated to progress without the direct guidance from a physical classroom. To remedy this, older ISY students who have been learning their instruments for years are now mentoring younger students who would like to improve their existing music capabilities through Zoom meetings.
 Currently, a wide array of instrument mentors and mentees exist, including flute, violin, clarinet, bass clarinet, saxophone (tenor and baritone), french horn, trumpet, trombone, and percussion. Lessons are conducted once or twice a week for 30 minutes per lesson. Though the mentors may not be music experts, they are able to provide guidance to younger kids by teaching not only instrument technicalities but also other music-related challenges such as rhythm, note-reading, and music theory. Mentees have stated that the lessons make them more motivated to practice as someone is constantly checking up on their progress.
However, the program does come with its challenges. Some students currently do not have access to instruments, and they are waiting for government restrictions to relax so they can go pick instruments up from the front gates of school. Crystal, a flute mentor, has stated that "other technicalities exist, such as bad audio quality and connectivity issues with Zoom, but … [they are] learning to work it out."
Overall, the group aims to instill a greater love for instrumental music in the ISY community and bring the band program to greater heights. The service group believes that learning about music will not only encourage connection but will also allow students to pick up valuable skills, therefore embracing ISY values of serving our community and pursuing lifelong learning. Another mentor, Sammy, states she hopes to "benefit younger students in the same way that so many students and teachers before have inspired us." 
Choir and Music Mentorship are two of many projects that strive to foster a love of music in the community and increase musical exploration at ISY. Global believes that it is of utmost importance to implement such projects to sustain human connections in a time of social distancing. Stay safe, stay hopeful, and enjoy music!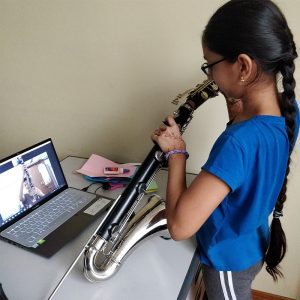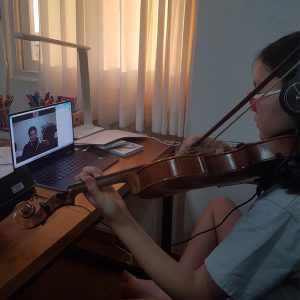 By Global