 On May 19th, the ISY Compassion Summit team of students (Sammy, Apurva, Kumud, Steven, Nicole, Stuti, Amishi, Rohan, Kiran, & Su Htet) partnered with Ben Solanky co-founder of Empathy Action: an organization that aims to increase empathy and raise awareness of global deprivation to ignite a desire to take compassionate action. Together they created an engaging and impactful morning for the ISY students and faculty. We were honored to have Mr. Solanky join us this morning as the keynote speaker to address the significance of empathy in understanding important issues in the world.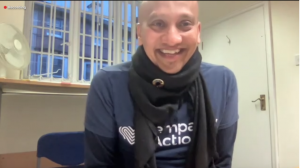 Ben Solanky, co-founder of Empathy Action 
The morning started off with a practical workshop given by the Compassion Summit Team on the interrelationship between self-care and compassion. Important topics from misinformation about self care to the importance of mindfulness were shared and practiced. The audience engaged in various activities that evoked deeper thoughts and understanding around the meanings of self-care and compassion.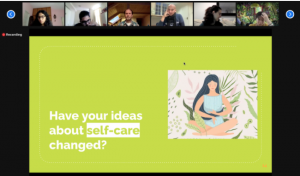 One of the highlights of this morning was the "Compassion Truth & Dare" game show organized by Mr. Solanky and hosted by Compassion Summit team members. 
Six volunteers, 3 teachers & 3 students, participated in this game show. The audience was given a poll to choose from a list of "truth" questions they wanted the volunteer to answer about their experience with compassion. Some of the questions included, "What is the kindest thing a teacher has ever done for you?" and "Who's your compassion hero?" 
A wide-range of responses came from the six volunteers, and each of them had sculpted their own meaning of compassion. Students were able to learn the story behind some of their teachers and classmates through a lens that doesn't always come up in daily conversations. It helped them realise how compassion can play a role in almost any situation, through intentional and mindful actions and communications. 
After sharing their response to the "truth" questions, the volunteers were asked whether they wanted to spin the "Wheel of Dares". A virtual spinning wheel was used to choose dares 1 through 6, which included activities such as, "make a random act of compassion to someone you barely know", or "make food and donate it to someone who needs it". 
Mr. Todd Davis, one of the teacher supervisors for ISY's Compassion Summit team, stated, "compassion doesn't always come naturally to everyone, so in a way we must dare to be compassionate… we must have the courage to walk in someone else's shoes, which may sometimes be uncomfortable or a little scary." 
As Mr. Solanky expressed, "empathy is a muscle that needs to be exercised". This event has helped several students and teachers realise the power of compassion. Before the event ended, participants were asked to put into the Zoom chat words they thought best described "compassion" and "self-care". Here is the word cloud made up of everyone's words.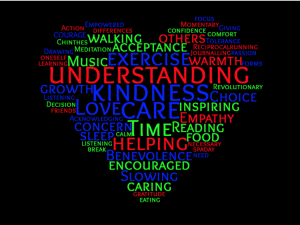 Mr. Solanky concluded with a powerful message that is bound to stick with everyone in attendance. "The real solution to problems are people who choose to act on the compassion that they feel."
Global and the ISY community would like to thank Mr. Solanky for joining us on this very special Wednesday activity that will be remembered by all of us. 
By Global