 One of the reporters from Global is also part of the Yangon Animal Shelter Service Learning group, Elizabeth (Class 0f 2024).  She recently reached out to Mr and Mrs Just in order to get an update on the shelter.  Elizabeth sent her a list of questions regarding the shelter so that we could share with the community information about how the shelter runs.  Questions included:
1. Could you tell a little bit about yourself?
2. What is YAS?
3. What would a typical day at YAS look like? (Maybe you could talk about the types of food and activities)
4. Why is it important to rescue stray animals?
5. What is your current goal?
6. What can people do to help YAS reach their goal and help the animals there?
7. Is there anything else you would like to add or hope we address in the article?
What we heard back was the shocking news that the shelter is being forced to move to a new location.  The below is what Mrs. Just told  us:  (The above podcast was recorded by Hayman (Class of 2022).
"Yangon Animal Shelter is facing diminished funding due to the COVID pandemic and has struggled to provide food and medical care for the 600+ dogs in our care. These difficulties have been compounded by the country's current situation.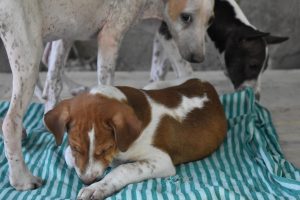 Now, we face perhaps our biggest obstacle yet. We are being forced to relocate the shelter by the end of November. The people who granted the use of the property where our shelter is now located need the land back. The timing could not be worse. They have purchased new land for us to use, and we are grateful for that, but we have to rebuild 11 different sections with fences and sheds, along with feeding, cooking, and storage rooms.
 What took us years to accomplish now has to be done in just over a month. We need to at least have the enclosure and the shelters constructed before we can safely move 600+ dogs. Then, we will continue construction and hope to rebuild all structures before the next rainy season in May. Our estimated total construction cost for a new shelter is US $35,000. 
If you can help at this crucial moment, any amount that you can give is appreciated. If you are in a position to donate U$1000 or more, we will name a section after you with a plaque to commemorate your generosity.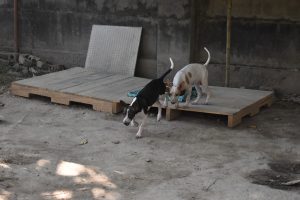 It's certainly a long and difficult road ahead but, with your help, we can keep the Yangon Animal Shelter open. Through your support, we will continue to save lives at the shelter, as well as continue to promote CNVR (capture, neuter/spay, vaccinate and return) and thus ending the inhumane practice of poisoning stray dogs.
Please contact Mr. Just (thjust@isyedu.org) if you have any questions, would like to donate to YAS, or would like to join this service learning group."
Mrs Just also answered these questions regarding the shelter.
What sort of items do you need?
The most important items are:
Dry dog food 

Canned dog food

Rice

Bleach
 We can always use:
Vitamins

Calcium

Medicine

Blankets

Travel crates

Diapers (for the paralyzed dogs)
How much does it cost to run the shelter each month?
Our running costs per month = $7000 – $8000 dollars. We go through ninety 20-kilo bags of dry dog food and ninety 48-kilo bags of rice a month.
What is the biggest challenge in running a shelter?
 

RIGHT NOW THE BIGGEST CHALLENGE IS HAVING TO MOVE!
The financial challenge is huge as there is always worry that we will not receive enough funds to cover our costs.  We rely solely on private donations and although we do have some donors who donate monthly, at least half of our donations are one-time donations.  Therefore, funding is not secure and is a constant stresser.

The other challenge is

deciding which dogs to accept

. We receive daily calls asking us to take in dogs, but since we are close to full capacity and do not have a big turnover (not enough adoptions – another challenge!), we have to take only those in dire need of rescue. Making these decisions is stressful and always difficult
How many workers does the Yangon Animal Shelter have?
 11 full-time workers, 1 part-time veterinarian, and 1 shelter coordinator.
If you would like to learn more about YAS, their mission, and their story, look out for their featured article in the upcoming autumn edition of The Ripple.