 ISY Microinvestments is a student-led group that explores service learning through the perspective of development and more specifically micro-credit and finance. Previously known as Microloans, the team has rebranded itself this year alongside new members but still has the original aim to connect with people who wish to start or develop businesses, but do not have the necessary access to capital. This year also had a big change from different years in that we halted our tradition of providing real-life loans due to legal issues that arose, and thus we began a new program to provide candidates in Myanmar with a seed grant, where candidates were not expected nor legally binded to repay it.  Out of the long-standing history this group has had, this year has been one of the most successful years for Microinvestments, with 5 real-life investments and 9 digital loans. 
The 9 digital loans were done through the Microfinance Company Kiva that connected the Microinvestment members to small-business owners in need of loans all over the world, including the Philippines and Cambodia. Throughout the year, the members researched and collectively decided on who out of the thousands of people searching for loans was most in need. Their criteria included the loanees' familial background, industrial experience, loan length, loan amount, and field partner risk rating (which shows how likely the loanees would be able to return the money).  By loaning a total of more than $1000 USD, Microinvestments was able to help a wide variety of businesses ranging from bamboo crafting businesses and grocery stores to laundry businesses and nail salons.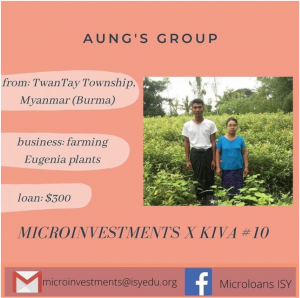 In addition, the officers of this club worked together to find people in Myanmar in need of investments during these challenging times. The officers conducted interviews with each candidate over the phone in order to get to know the candidates' business, character, family, and financial situation better. The officers wanted to see whether the purpose for the candidates' business aligned with their purpose of helping small businesses expand and improve their businesses. After many applications, interviews, and discussions, 5 people were chosen to be presented with investments of 2 lakhs each. They believed 200,000 MMK, although not a large amount of money so as to significantly improve the well-being of our candidates, can still help their businesses and the candidates' financial situations while also being a manageable sum for the Microinvestments team.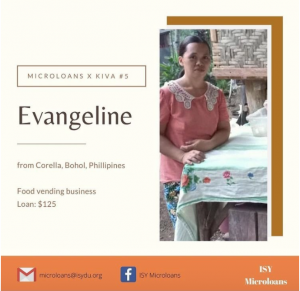 Due to COVID-19 and the club only being able to operate virtually for the entire year, there were many unprecedented challenges they had to overcome. One of the most significant challenges was efficiently withdrawing money to invest from the school's business office, taking 5 months just to complete the process. Another challenge was getting money from the officers to the candidates themselves. Although some were in Yangon and were able to personally visit the officers to receive their investments, some other candidates lived in remote areas of Myanmar and were unable to access transportation to visit the officers. As the candidates did not have bank accounts, making bank transfer and online payment modes (such as Kpay or AYA Pay) difficult as well, the officers had to decide on methods such as Wavemoney.
Lastly, Microinvestments made sure to transparently share all their activities this year on their instagram page, @isy_microinvestments. Through the social media accounts, they also hoped to attract incoming freshmen and sophomores at ISY to join the club next year. Overall, Microinvestments hope that their work can inspire individuals to actively look for the underprivileged in the community around us, and experiment with making loans and investments!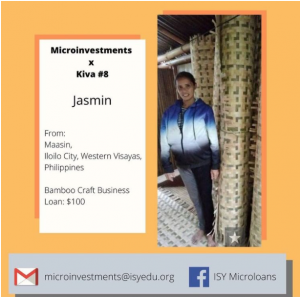 By Global