 On Wednesday, April 21st, three of ISY's environmental service groups (Eco-Schools, Green Initiative, and Community Action) collaboratively created a virtual celebration of Earth Day across the entire school!
The day started off with a brief introduction by the vice-president of Eco-Schools Manraj (G10), in a town-hall style Zoom meeting. Another one of ISY's integral service learning groups, Chinthe Roar, then officially released their documentary on the 2019 Mangroves Trip and played it for everyone in attendance. "I can say with great confidence that our team was very satisfied with how the documentary turned out," said Manu (G11), student leader of Chinthe Roar, "I am proud of the hard work we have put into it and it was quite amazing to receive such positive feedback." 
After the town-hall, students were free to choose which of the three Earth Day keynote speakers' presentations they wanted to attend. The keynote speakers included Vidushi Kapur, Dr. Kirt Page, and Nyi Nyi Aung. Vidushi is an ISY alumni who is currently the business manager of Mandalay Yoma Solar Power and has worked closely with the installation and monitoring of ISY's own solar power system. Dr. Page is a scientist and mentor of six university students who run Air Quality Yangon, a project dedicated to raising awareness and improving the quality of Yangon's air. Nyi Nyi Aung is a conservationist and the founder of Climb O'Clock, an indoor climbing studio here in Myanmar. He shares knowledge of Myanmar's karst ecosystems and the discovery of the longest cave in Myanmar.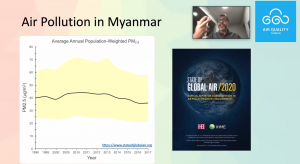 Kashish (G10) attended Vidushi's presentation, and remarked how she "learned about the technical aspect of how solar panels work as well as what impact they have at our school." Later in the afternoon, when Global asked Ms. Mi Mi her thoughts on the applicability of solar power in our daily lives, she told us an inspiring story. "We originally wanted to use the electricity lines to supply power for our small piece of land out in the Karen State of Myanmar. However because this was not possible, we ended up installing 4 off-grid solar panels instead – and that was a very good decision! These panels provide power for things such as pumping up water (to water our plants and adding to our fish pond), and the fridge and rice cooker in our small hut. It's very easy to use and it's remarkable how much clean energy can be used!" 
"I listened to Dr. Page's keynote presentation and learned quite a bit about air quality data specific to Myanmar," Kalika (G11) also recalled, "A point that stuck with me is how important it is to share such data with a country's citizens, because as Dr. Page put it, 'we deserve to know what we're breathing in.'" 
After listening to the keynote speeches, middle and high school students participated in an Earth Day Goosechase activity for one session, and an Earth Day "Creative Thinking for Sustainable Solutions" workshop. These workshops were facilitated by members of the 3 high school environmental service learning groups who did a great job of collaborating and making Earth Day a success.
The Goosechase involved mixed grade level teams of 5 students working together in a race to complete environment-related "missions". Those who completed the most missions and earned the most points won the Goosechase. This was a fun and light way for students to meet up and interact with each other.
Mr. Todd Davis, ISY Service Learning Coordinator, was impressed by the workshops that were facilitated by members of the 3 high school environmental service learning groups. He stated, "What a great example of collaboration and student initiative by Eco-schools, Green Initiative, and Community Action students. Earth Day was a success mainly due to the efforts of these students."
Misa (G11), the student leader of Community Action, also reflected on how the three groups "started planning for this event in the middle of February… I thought we would have so much time to prepare, because we had more than 2 months. However, through the meetings amongst our groups as well as with teachers from both the elementary and secondary schools, time passed really quickly."
Along with the Goosechase, other Earth Day activities included problem-solving in regards to biodiversity, creating environment-related short videos, making hands-on crafts and taking photos of nature, creating solutions for neighborhood environmental problems, implementing Trash Hacks, and listening to and having a conversation with ISY's own Green Teens.  
"I facilitated the hands-on activities for the day," said Hayman (G11), a member of Green Initiative. "The middle school session was quite productive, and this Padlet certainly reflects that! I would say it was quite a challenge hosting this virtually, and I was worried the students wouldn't be as engaged as we initially hoped. Nevertheless, this was a vital learning experience and I am so grateful for everyone who stuck around until the end of the session." 
Misa, one of the facilitators of the Green Teens activity (and a Green Teen herself), made similar comments, "Our group was really small in the high school session, so we were able to have some valuable discussions about vegetarianism/veganism and a little bit about plastic waste. However for middle school, it was quite challenging for me to communicate with the students for 70 minutes, so that's something I would like to improve for the next time. Also, since I was facilitating the activities, I couldn't see how the Goosechase went, but I hope everyone learned something new and enjoyed the missions!" 
"Earth day was a really good learning experience," Bridget (G10), student leader of Green Initiative told Global. "I found new perspectives on environmental problems in Yangon due to the range of areas people at ISY live. Organizing the event made us look at the various problems in Myanmar and find a way to promote collaboration with the student body to produce solutions we can use in the future, not only awareness." 
Manraj added, "I'd say the event turned out quite fantastic, and it was amazing to see each individual part of Earth Day – which had been organized by the members of three different service learning groups – come together and complement each other, essentially fitting like the pieces of a puzzle." He also expressed his thanks to ISY elementary students who participated, saying, "I helped out with the guest speakers for elementary school, and it was incredibly encouraging and heartwarming to see the enthusiasm that the elementary students had."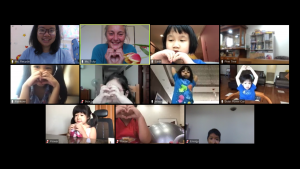 The hard work and perseverance of ISY's environmental service learning groups have certainly not gone unnoticed. Along with our student community and the help of our teachers, they made the celebration of Earth Day a reality, despite the challenges of being virtual. "We would not have succeeded without all the members of Community Action, Green Initiative, Eco School members (especially Bridget and Manraj), and all the teachers," concluded Misa, "and I would like to express my appreciation for them. Thank you for this opportunity to learn and interact with the school community."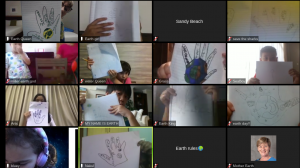 Manraj concluded, "We were able to gather the entire school, kindergarten through to 12th grade, not only to celebrate the natural world but also to breathe new life into our commitment to protect it." 
By Global