On the morning of May 6th, students from high school Model United Nations gathered in a Zoom meeting to participate in the first-ever virtual YMUN conference, as the customary Yangon Model United Nations XI conference was canceled due to COVID-19. 
Eric and Erica, grade 11 student leaders who initially came up with the concept of holding a virtual YMUN conference, spoke about why they decided to make it happen. "Even before the school closed due to the virus, I was worried that we wouldn't be able to have a conference," Eric mentioned. "The original idea was to have a debate sort of test-run on Zoom, and see whether that worked out or not. Even before we got to test that out, the school closed, so holding an actual YMUN conference virtually was the next idea we had. Erica was also interested to do so, and now it's becoming an actuality."
Erica, student MUN leader added, "I was disappointed that this year's MUN had been taken away from us, and trying to somewhat make up for that in difficult times even in this tiny way was necessary." The topic of debate for this conference was Covid-19, as "this topic at this time is both convenient and significant because it really does affect the entire world, and we can look at it from any standpoint." The delegates came up with two resolutions that were debated on, while several good points were made and several different ideas were inputted. Ms. Kenney, one of the MUN advisors during the conference, couldn't help but notice the "great spirit" that all the students possessed, and how all of them learned that, "there are so many different angles to the issue, such as how to protect people… every country, rich or poor, are in this together." Ms. Kenney was also proud of the delegates' perseverance, "Instead of giving up because of the circumstances, students asked themselves, 'how do we do it, even with this challenge of being virtual?' They didn't just show up, they showed up with a lot of energy and brought a lot into it. They were highly engaged, lots of good things were happening, and it was all student-driven."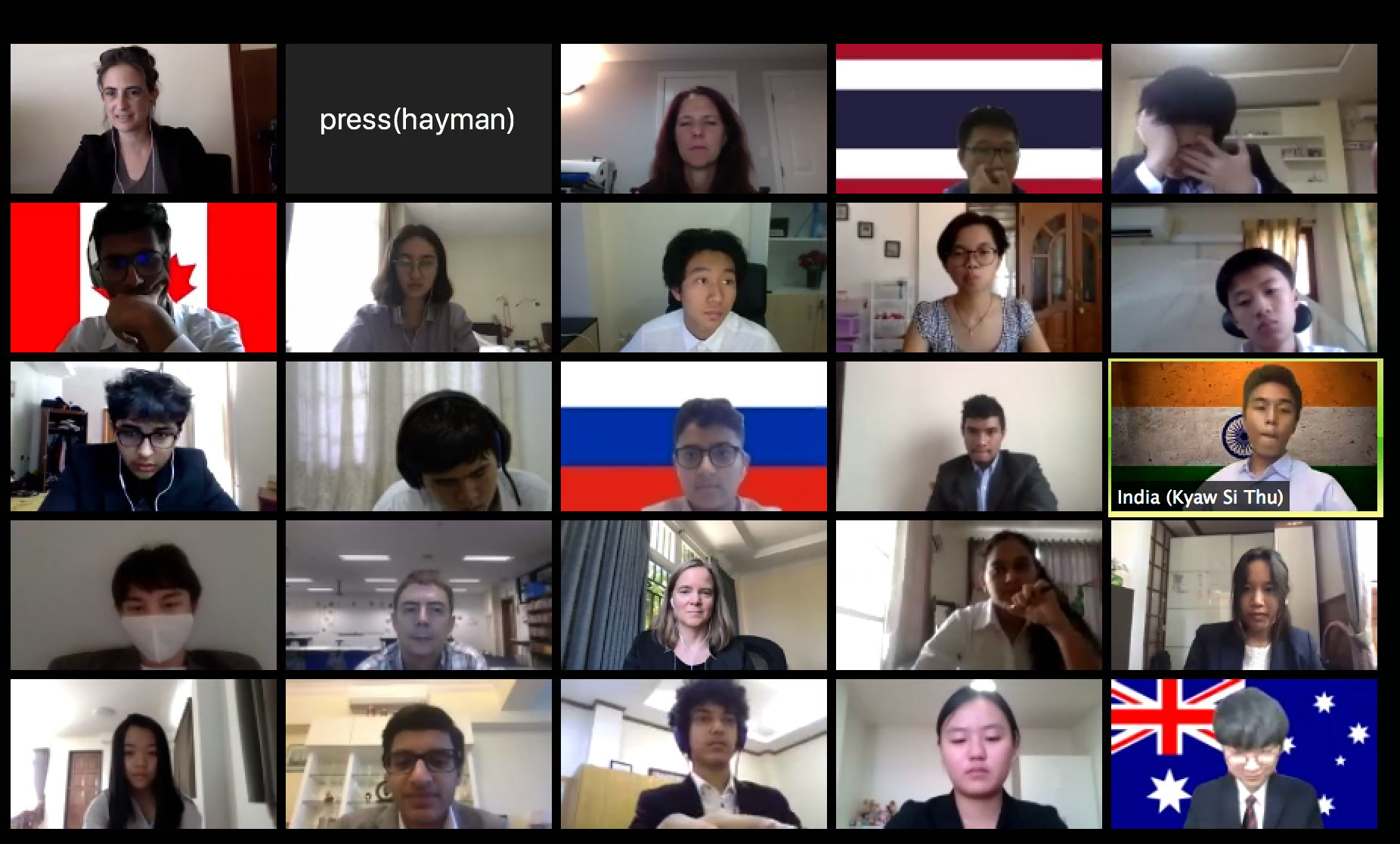 Haein (10), a delegate at the conference, gave his insight on how it went. "It was a unique experience to join the virtual version of YMUN," he started off, "although there was some confusion during it, the conference was full of passion. In fact, 3 o'clock was the original time for the conference to end with both resolutions discussed, but we could only debate on one resolution as everyone was so engaged! It was also fun how students could change their Zoom profile background into the country flags that they are delegates of. Excluding the fact that we were just looking at our laptop screens, it was nothing different from a typical conference. I think that virtual conferences are an option in the future as well. I hope inter-school conferences―the real YMUN―can also be held, following the success of today's virtual YMUN."
Crystal, a grade 10 delegate at the conference said, "I enjoyed this conference a lot and I liked how being at home made it less stressful, and I was more comfortable with talking. Seeing everyone at once made it easier for me to observe them and learn what the good standards would be and how to be better prepared for future MUN conferences. I think virtual debates are good practice for the actual conference. Even when quarantine is lifted, I would like for us to keep practicing this way."
Even amidst these difficult times, nothing could stop the delegates' determination to discuss real-world issues. Oh, what changes COVID-19 has created… even in the realm of MUN!
Published by Global