On Wednesday, May 13th, as part of the weekly interdisciplinary lessons, students from grades 9 and 10 were asked to make short instructional videos documenting any skill they wanted to share with and teach to elementary students. In return, the elementary students also made their own videos highlighting something new that they've learned or talking about their experience with growth mindsets and the "courage iceberg."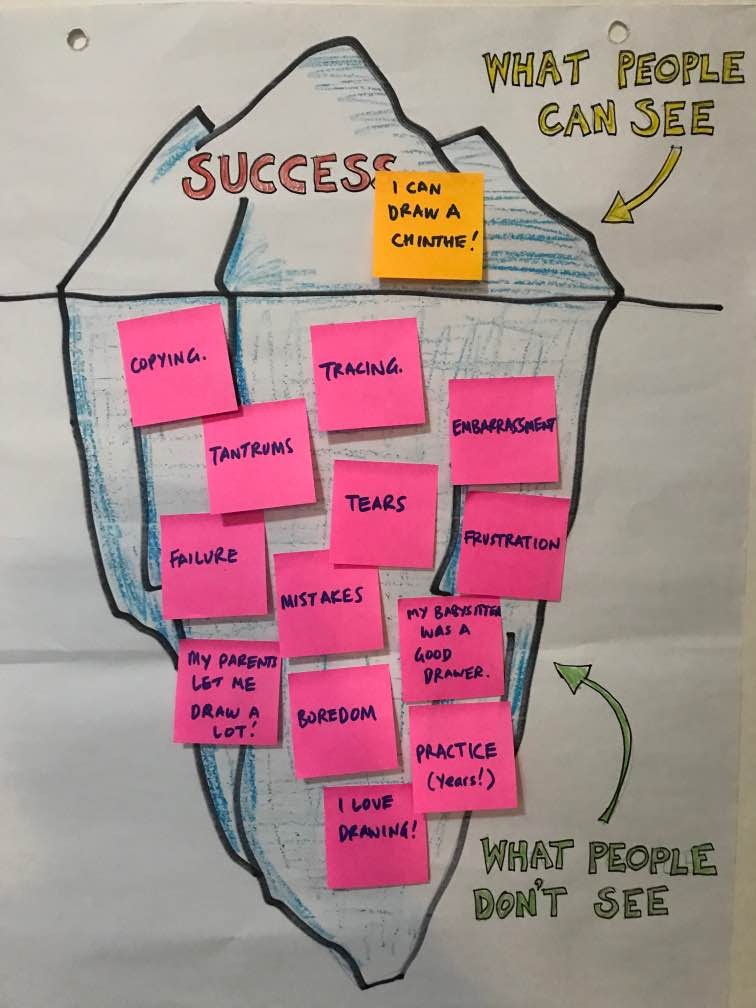 These videos were posted on a collective Padlet, an online bulletin board, and now serves as the framework for elementary students to learn about growth mindsets, and what that means to them. 
With over 95 participants and 102 posts, the Padlet is overflowing with various how-to videos and reflections by both elementary and secondary students. Some videos include making popsicles, drawing a dog, folding a crane, making oreo cheesecake, playing a song on the piano, and even overcoming one's fears of math. These were followed by short comments from ES students, such as "I learned how to make a dolphin with paper," "I learned to draw on an iPad," and "I learned to make pizza!"
Mr. Simpson, the ISY Curriculum Coordinator, outlined the purpose of this activity as a way to give "little things that the elementary students could try, even though they might not be successful at it the first time." It was also for grade 9 and 10 students to "share their stories of success, as younger students look up to the older students." He stated that this was a chance for younger students to be inspired by the high school students, because the "strength in having older students teaching younger students can be often overlooked", and "in a  school that brings it all back to service, this is a really meaningful act of service learning." Although the older students may not have been the ones learning card tricks and bottle flips, they did learn how to communicate to a different audience and also gain insight into the way younger students are being introduced to the concept of maintaining a growth mindset. "The schoolwide learner attributes stay the same no matter what grade level: creativity, courage, compassion, and critical thinking. We want our younger kids seeing the older students using their imagination and creativity, and to learn how the things they were good at, they had to work on. Maybe they've gotten help from people, had challenges to overcome, and made many mistakes along the way." 
 When asked whether he thought this activity actively engaged the younger students, Mr. Simpson responded positively, indicating the elementary students "were able to clearly explain how they could get good at something", and even exceeded teachers' expectations regarding the range of responses. "They made connections that we didn't think they would," explained Mr. Simpson, "A couple of children said 'I'm a good friend. The part of the iceberg people don't see is that I'm shy, sometimes I'm nervous to go up and talk to people, I'm a good listener and that I'm patient.'" The activity not only asked a child "how could you get good at something?" but rather to get them to reflect, "Why am I good at this?"
 Although this may seem as a one-day activity, Mr. Simpson explained how this collective Padlet is a precious resource that can be used for long into the future. "We can use it all of next year – whether or not teachers may want to use this as a resource to teach, they can use it as other instructional things as well. When a younger kid watches these videos, it would be much more fun than their teacher showing them instead." He also mentioned how some of the examples students gave could be turned into useful lessons. "The courage iceberg about making friends, for example, could be used by Ms. Patty, the elementary counselor, and made into a whole lesson."
The elementary and secondary student interaction doesn't end here! This week's Wednesday interdisciplinary lesson challenged both the younger and older students to come up with ideas we can remain socially distant when school opens in August. Ideas ranged from wearing "social distancing hats" to implementing 2-meter markings in the lines at the Snack Bar and cafeteria to spreading out desks in the classroom. These kinds of activities allow for everyone to get creative and not be afraid to share their ideas, also giving older students "a chance to be the role models that they can be," and allow for reciprocity of learning between younger and older students, bringing the ISY community closer, even amidst times of virtual learning. 
By Global